Roriz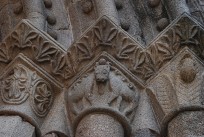 The Portuguese village of Roriz is located on the northern limit of the district of Porto in the municipality of Santo Tirso. This village stands out for its monasteries, especially the monastery of Saint Peter.
The first evidence of human occupation in the region is the Megalithic burial mounds and the fort of Santa Margarita in San Tomé de Negrelos. It is also possible to visit several ancestral homes in the area.
The church of Saint Peter formed part of the monastery which dates back to 1070 approximately. However, there are hardly any remains from the first constructive phase. Even though the monastic community disappeared, the church was able to survive becoming one of the most beautiful examples of Romanesque architecture in Portugal. It was declared a National Monument in 1910.
Two other monasteries in the area, San Benito de Singeverga and Santa Escolástica, restored the Benedictine Order in Portugal in 1935.
It is important to mention Santa Maria of Negrelos, a Romanesque church where a fresco from the 15th Century representing the Assumption of the Virgin was discovered.
In the neighboring village of Vilariño, it is possible to visit the monastery of San Miguel from the 11th Century as well as the ancient parochial church probably from the 12th Century, which has been recently remodeled. Also within the municipality of Santo Tirso, the center of an important textile industry, the monastery of São Bento is located and dates back to the 10th Century.
Foto: Cssantos