First phase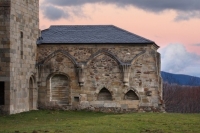 After the previous studies were carried out, the technicians determined that the first phase of restoration in the church will focus on the cleaning, rehabilitation, and improvement of the roof. Then they will proceed to eliminate dampness and moisture. Problems with moisture provoked the deterioration in some of the interior parameters of the building.

Thus, the roof will be substituted in the apses, apsidioles, and sacristy, where it will be waterproofed.
Once the intervention on the roof is finalized, they will proceed to clean the walls and roof in the sacristy and the north wall, eliminating existing plants and renovating the floor of the sacristy.